Rigaku: A foremost manufacturer
of X-ray analysis instruments
Website
Vacuum chuck
Ideal for sample adsorption
Samples can be firmly adsorbed without any damage during wafer or LC glass transportation, or during instantaneous high-speed rotation using a spin coater.
Vacuuming through a magnetic seal can eliminate the unnecessary space, which not only brings an advantage of downsizing of the equipment as a whole but also provides stable rotation performance. For this reason, the demand in magnetic seals for vacuum chuck has been gradually increasing.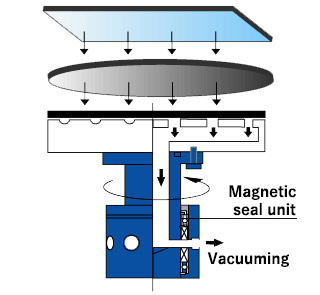 Notes for applying the seals to vacuum chucks
Magnetic seals for vacuum chuck are special order products.
Please tell us the chucked materials, your operating environment, operating temperature range, rotating speed, required shape and load conditions, necessary geometrical tolerances, etc. from here. Our sales department will contact you to offer a proposal.