Rigaku: A foremost manufacturer
of X-ray analysis instruments
Website
Repairment / Overhaul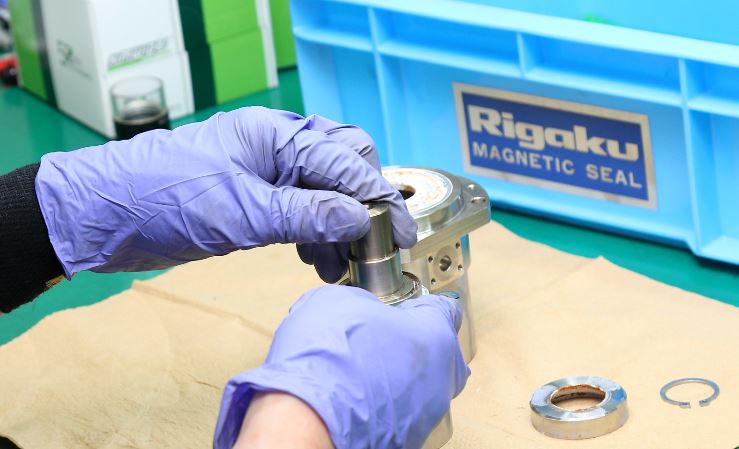 We accept your request for repairment / overhaul of your magnetic fluid seals made by Rigaku.
Flow of repairment
Contact us

Please contact us from the Contact Form or call our sales department.
Phone: 042-545-8188 (direct number of sales dept.)

Filling in of a Repairment / Investigation Item Information Sheet

Our sales personnel will send you a Repairment / Investigation Item Information Sheet.
Please notify us of the conditions of use so far for the product, the state of application with / without poisonous and deleterious substances, etc.
* In some cases, we may not accept a product to which a detoxification treatment has not been carried out.

Sending of a product to be repaired

After we check the contents on the investigation item sheet, we will ask you to send the product.
After removing the magnetic fluid unit from your equipment, please send the unit as it is, without disassembling it by yourself.

Overhaul

After receiving the unit, we will perform an overhaul of seal unit.
We check the condition of parts and determine whether the parts can be reused or not.

Investigation Report
Submitting a written estimate

We will submit you the investigation report to show the results and also a written estimate for repair.
Please note that a lead time from the receipt of repair item to the submission of written estimate is about two weeks.

Placing of an order

After checking the contents of investigation report and items to be repaired, please consider purchasing a repaired item or a new product.
If you don't purchase any of them, please see the notes below for billing of the overhaul cost.
Notes
Cost for sending the item to be repaired shall be borne by you.
Please refrain from disassembling the magnetic fluid seal unit by yourself. Any disassembled unit will be outside of the scope of repairment.
In the case that you decide not to purchase a repaired item or a new product after we conduct the overhaul and submit the written estimate, we will provide you a bill of the overhaul cost.
Please ask our sales personnel for details.